It's a bit cold for the season here right now, but the growing continues. We are adding more plants to the garden, but in the meantime our blueberry bush (tree!!) is already heavily laden with green berries.
We still had a package left in the freezer from last year, so there's this…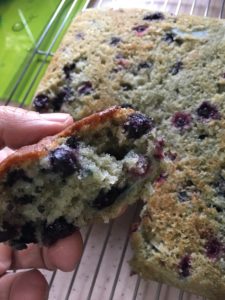 I'm torn between which cake I like the best now: the one made with the pineapple guava jelly or the one made with blueberries. I guess we'll have to make both at the same time and do a side by side taste test. That's not likely to go well on a Saturday morning weigh-in, but sacrifices have to be made.
Here's the blueberry bush getting after it already: (we usually get several pints of berries from this one set of two bushes. Bake with some, eat some, toss some in cereal, or in a homemade shake.