Add grades through Campus Square
Okay, the new system is up and running and we're set to use Campus Square for Online Grade Submissions.
There was a promise of a step by step guide which I have not seen, so after a little while I decided to give it a go and figured it out.
Thinking someone besides me would probably benefit from this (and frankly, so I'll remember how to do it next time), here are few notes on how to accomplish this.
First, go to Aichi Shukutoku's main website http://www.aasa.ac.jp (opens in a new tab)
Scroll to the bottom of the page and you should see a link to Campus Square on the right side, near the bottom.
Click that, then use your regular Instructor ID and password to login (if you don't have that, you'll have to ask someone from the office for help).
Once you're logged in, you can then click on the 'Enter Grades' link near the top:

You should see a list of your classes there. Choose a class, click on it, and you should then have a page that offers you the list of students and an entry form to the right of each number/name. You have to type these in unlike in the past where you just selected the grades from a radio button.
After you enter the grades, click the "check" button located at the bottom of the list:

You'll get the page reloaded and a chance to check the grades you entered. Once you're satisfied they're correct (you can change them there without going back to the previous page) click the Register Grades button which is below the list:
NOTE: If you make changes, it's probably best to hit that 'Check' button to the left one more time to set your changes. This same page will reload and you can then go ahead and hit the 'Register' button.

After you do that, you should now have 2 links in the center of your page. Either one will take you back. One goes back to that list, the other goes back to the full class list.

If you find yourself back on the list you just left, don't panic. Just go to the bottom of that page and there's a link to go back to the full list.
When you finish, that class list page will have a Green kanji indicating your grades have been submitted: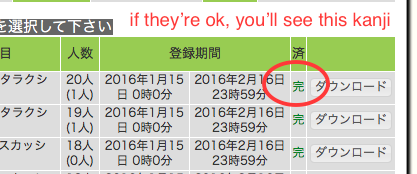 And, that should do it.
I'm sorry if that doesn't get you through, but once grades are entered, you can't see some of those pages again.
I hope that helps.